AAPCA 2020 Fall Business Meeting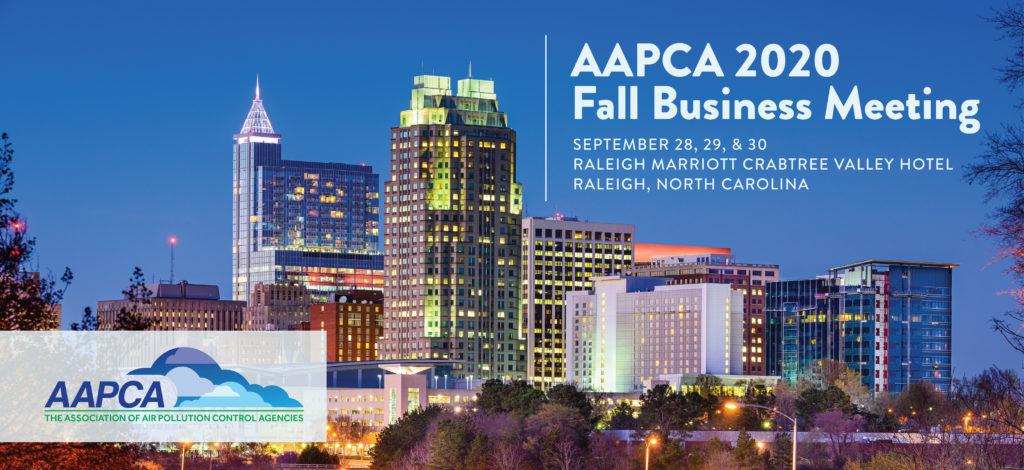 2020 National Ambient Air Monitoring Conference
AAPCA is a co-sponsor of the 2020 National Ambient Air Monitoring Conference, which is hosted by U.S. EPA. The 2020 Conference is scheduled to be held August 9 to 13 in Pittsburgh, Pennsylvania. More information is available on U.S. EPA's website.
2020 Spring Meeting (Canceled)
The Association of Air Pollution Control Agencies' (AAPCA) 2020 Spring Meeting was cancelled for COVID-19 precautions. Following cancellation, AAPCA hosted a Spring 2020 Webinar Series for the Association's membership. Below are the available presentations from AAPCA's Spring 2020 Webinar Series:
Please email jsloan@csg.org with questions.
2019 Fall Business Meeting (Raleigh, NC)
AUGUST 26, 2019
Topical Session: New Tools for Air Quality Evaluation
Using Satellites Ground Observations Models to Inform Air Quality and Health Analyses – Jason West, Department of Environmental Sciences & Engineering, University of North Carolina at Chapel Hill, and NASA Health & Air Quality Applied Sciences Team (HAQAST)
Air Sensors An EPA Perspective – Kristen Benedict, U.S. EPA, Office of Air Quality Planning & Standards, Air Sensors Team
New Tools For Air Quality Evaluation Air Quality Sensors – Andrea Clements, U.S. EPA, Office of Research & Development
LDEQ Mobile Air Monitoring Lab – Jason Meyers, Louisiana Department of Environmental Quality
Field Use of Air Monitoring Technologies – Matthew Schneider, U.S. EPA, National Enforcement Investigations Center
Project Canary – David Armitage, Project Canary
Clay Bell, Methane Emission Technology Evaluation Center (METEC), Colorado State University
AUGUST 27, 2019
2019 AAPCA Best Practices Designations
U.S. EPA Air & Radiation Priorities
Anne Idsal, Acting Assistant Administrator, U.S. EPA Office of Air & Radiation
Affordable Clean Energy Rule Overview
Affordable Clean Energy Rule – Kevin Culligan, U.S. EPA, Office of Air Quality Planning & Standards
Nick Hutson, U.S. EPA, Office of Air Quality Planning & Standards
U.S. EPA NAAQS/SIP/Permitting
NAAQS Implementation Updates – Scott Mathias and Matt Spangler, U.S. EPA, Office of Air Quality Planning & Standards, Air Quality Policy Division
Lunch with Keynote Speaker
Jonathan Brightbill, Principal Deputy Assistant Attorney General, Environment & Natural Resources Division, U.S. Department of Justice
Mobile Sources Updates
Air Quality Research & Health Science
Other U.S. EPA Office Updates
Regional Haze Updates
Regional Haze – Elizabeth Etchells, U.S. EPA, Office of Air Quality Planning & Standards, Air Quality Policy Division
Regional Haze Monitoring – Brian Timin, U.S. EPA, Office of Air Quality Planning & Standards, Air Quality Assessment Division
Updates on Energy Developments and Transitions
Wednesday, August 28
U.S. EPA Office of Air Quality Planning & Standards Priorities
Peter Tsirigotis, Director, U.S. EPA Office of Air Quality Planning & Standards
U.S. EPA Outreach and Information Division Updates
Multi-Pollutant Risk-Analysis & Reduction Strategies
Erika Sasser, U.S. EPA, Office of Air Quality Planning & Standards, Health and Environmental Impacts Division
Kenneth Mitchell, U.S. EPA, Region 4
Multi-Pollutant AQ Planning – Michelle King, Louisville Air Pollution Control District
Air Quality Monitoring & Other Technical Updates
E-Enterprise Updates
2019 Spring Meeting (Baton Rouge, LA)
MARCH 25, 2019
Topical Session: Risk / Environmental Communication
MARCH 26, 2019
NAAQS/SIP/Permitting Updates
Upstream/Downstream: Oil & Gas Updates
Lunch with Keynote Speaker
Susan Parker Bodine, Assistant Administrator, U.S. EPA Office of Enforcement & Compliance Assurance
Modeling, Monitoring, & Other Technical Updates
Ozone NAAQS Updates
Clean Air Act Legal Updates
Regional Haze Updates
State Perspectives on NAAQS Reviews
MARCH 27, 2019
(Closed session, limited to AAPCA members and governmental attendees)
U.S. EPA Air & Radiation Priorities
William Wehrum, Assistant Administrator, U.S. EPA Office of Air & Radiation
U.S. EPA Region 4 Updates and Priorities
Mary Walker, Acting Regional Administrator, U.S. EPA Region 4
U.S. EPA Regional Roundup
AAPCA Member Roundtable: Title V
State SO2 Updates and Perspectives
2018 Fall Business Meeting (Raleigh, NC)
NOVEMBER 13, 2018
Topical Session: Infrastructure
Moderator Introduction
National Update/General Overview
Infrastructure Planning
​IT / Networks
NOVEMBER 14, 2018
2018 AAPCA Best Practice Presentations
U.S. EPA Air & Radiation Priorities
Bill Wehrum, Assistant Administrator, U.S. EPA Office of Air & Radiation
NAAQS and Other Implementation Updates
Lunch with Keynote Speaker
Regional Haze Updates and Perspectives
Permitting Updates
Mobile Sources Updates & Priorities
Modeling & Monitoring Updates
State Perspectives on Ozone NAAQS Implementation
NOVEMBER 15, 2018
(Closed session, limited to AAPCA members and governmental attendees)
U.S. EPA Office of General Counsel Updates
Justin Schwab, Deputy General Counsel, U.S. EPA
U.S. EPA Office of Air Quality Planning & Standards Priorities
Peter Tsirigotis, Director, U.S. EPA Office of Air Quality Planning & Standards
Emerging Compounds Updates
AAPCA Member Roundtable: Wood Products
2018 Spring Meeting (Lexington, KY)
APRIL 4, 2018
Topical Session: Disaster Response & Planning
U.S. EPA Regional Perspectives
State and Local Agency Perspectives
APRIL 5, 2018
NAAQS/SIP/Permitting Updates
Interstate Transport: Perspectives and Future Challenges
Air Pollution Health Science Updates
Lunch with Keynote Speaker
Clean Air Act Legal Briefs
Modeling & Other Technical Updates
U.S. EPA Office of Enforcement and Compliance Assurance Updates
U.S. EPA Office of Atmospheric Programs Updates
APRIL 6, 2018
(Closed session, limited to AAPCA members and governmental attendees)
U.S. EPA State and Regional Affairs Updates
Kenneth Wagner, Senior Advisor to the Administrator, Regional and State Affairs, U.S. EPA
MJO Updates
U.S. EPA Regional Roundup
EPA Region 4 Perspective – Beverly Banister, Director, Air, Pesticides, and Toxics Management Division, U.S. EPA Region 4
Edward Nam, Director, Air and Radiation Division, U.S. EPA Region 5
EPA Region 6 Air Program Work/Measures – Jeffrey Robinson, Chief, Air Permits Section, U.S. EPA Region 6
AAPCA Member Roundtable: Permitting Efficiency
Arkansas Department of Environmental Quality
Indiana Department of Environmental Management
Kentucky Division for Air Quality
2017 Fall Business Meeting (Raleigh, NC)
SEPTEMBER 20, 2017
Topical Session: Long-term and Succession Planning
Succession Planning: Recruit, Retain, Develop – Renu Chakrabarty, West Virginia Department of Environmental Protection

West Virginia DEP Succession Planning White Paper

Division of Air Resource Management Employee Development – Preston McLane, Florida Department of Environmental Protection
Succession Planning – Brenda Holmes, City of Winston-Salem, Human Resources Department
Succession Planning – Rachael Hamilton, Louisville Metro Air Pollution Control District
SEPTEMBER 21, 2017
2017 AAPCA Best Practice Presentations
EPA Air and Radiation Priorities/Ozone Cooperative Compliance Task Force
Mandy Gunasekara, U.S. EPA, Senior Advisor for Air and Radiation
NAAQS/SIP/Permitting Updates
NAAQS and Other Implementation Issues – Anna Marie Wood, U.S. EPA, Air Quality Policy Division
Future of Interstate Transport
Lunch with Keynote Speaker
Moving the Lamp Post: Regulatory Reform, Regulatory Budgeting, and Smart Regulation – Keith Belton, Manufacturing Policy Initiative, Indiana University School of Public and Environmental Affairs
Clean Air Act Legal Updates
Modeling & Monitoring Updates
EPA Air Quality Modeling Updates – Chet Wayland, U.S. EPA, Air Quality Assessment Division
Ambient Monitoring Update – Nealson Watkins, U.S. EPA, Air Quality Assessment Division
Other U.S. EPA Office Updates
Office of Enforcement and Compliance Assurance Updates – Patrick Traylor, Deputy Assistant Administrator
Office of Research and Development Updates – Richard Yamada, Deputy Assistant Administrator
Office of Inspector General Overview and Current Work – James L. Hatfield, Director, Air Evaluations
SO2 Modeling vs. Monitoring Issues & Designations
SEPTEMBER 22, 2017
(Closed session, limited to AAPCA members and governmental attendees)
Combined Air Emissions Reporting Updates
Regulatory Reform Roundtable
Brittany Bolen, U.S. EPA, Senior Deputy Associate Administrator, Office of Policy
U.S. EPA Regional Roundup
Carol Kemker, Deputy Director, Air, Pesticides, and Toxics Management Division, U.S. EPA Region 4
Douglas Aburano, Chief, Attainment Planning and Maintenance Section, Air Programs Branch, U.S. EPA Region 5
Air Quality Planning Progress and Challenges in Region 6 – Wren Stenger, Director, Multimedia Division, U.S. EPA Region 6
Region 9 Air Quality Challenges – Matthew Lakin, Acting Deputy Director, Air Division, U.S. EPA Region 9
White House Council on Environmental Quality Updates
Mary Neumayr, Chief of Staff
Member Roundtable: Doing More With the Same (Or Less)?: Air Agency Organization & Efficiency
IMPACT: Inventory, Monitoring, Permitting, And Compliance Tracking Data System- Nancy Vehr, Wyoming Department of Environmental Quality
Division of Air Resource Management Program & Budget Overview – Preston McLane, Florida Department of Environmental Protection
Karen Hays, Georgia Environmental Protection Division
Doing More with Less: Air Agency Efficiencies – Rhonda Thompson, South Carolina Department of Health and Environmental Control
2017 Spring Meeting (Tucson, AZ)
MARCH 27, 2017
Topical Session: New Developments in Risk Science and Causality
MARCH 28, 2017
Exceptional Events Updates
New Directions in Energy Policy
Modeling & Monitoring Updates
Keynote Lunch
The Honorable Edward Whitfield, Principal, Farragut Partners, LLP, and former U.S. Representative for Kentucky's 1st congressional district, and Jeffrey R. Holmstead, Bracewell LLP
What's Next?: Clean Air Act Policy Issues
NAAQS/SIP/Permitting Updates
AAPCA Member Roundtable Discussion: Cooperative Federalism, Resources, and Other Funding Options
Introductory updates from Jefferson County Health Department
AAPCA Member Roundtable Discussion: Volkswagen
Introductory updates from Arkansas DEQ, Louisiana DEQ, and South Carolina DHEC
MARCH 29, 2017
DOJ's Environment and Natural Resources Division Updates
Jeffrey H. Wood, Acting Assistant Attorney General, U.S. Department of Justice, Environment and Natural Resources Division
The Future of Interstate Transport
Regional Haze Roundtable
Regional Haze – Introductory update from Rhea Jones, U.S. EPA, Air Quality Policy Division
2016 Fall Business Meeting (Raleigh, NC)
SEPTEMBER 21, 2016
Topical Session: Preparing for Personal Air Sensors: Communication, Context and Perspectives
Air Agency Research and Perspectives on Personal Air Sensors
 Research and Communication: U.S. EPA's Work with Personal Air Sensors
 Personal Air Sensor Development
SEPTEMBER 22, 2016
2016 Best Practice Presentation
"Air Protection Branch 101" Training – Karen Hays, Georgia Environmental Protection Division, Air Protection Branch
EPA Air Quality Modeling Updates
Tyler Fox, U.S. EPA, Air Quality Modeling Group
Startup, Shutdown, and Malfunction SIP Call Roundtable Discussion
AAPCA Member Roundtable with South Carolina Department of Health and Environmental Control, Florida Division of Air Resource Management, and Ohio Environmental Protection Agency
Clean Air Act Legal Updates
Handout: 2015-2016 D.C. Circuit Clean Air Act Cases (9-21-2016) – Ethan Shenkman, U.S. EPA, Office of General Counsel
Keynote Presentation: Connecting Air Pollution, Climate Change, Energy and Health
Jason West, Department of Environmental Sciences and Engineering, University of North Carolina at Chapel Hill
NAAQS and Other Implementation Updates
Megan Brachtl, U.S. EPA, State and Local Programs Group
Rhea Jones, U.S. EPA, Geographic Strategies Group
Raj Rao, U.S. EPA, New Source Review Group
Cheryl Vetter, U.S. EPA, Operating Permits Group
2014 National Emissions Inventory and Combined Air Emissions Reporting
Marc Houyoux, U.S. EPA, Office of Air Quality Planning and Standards
Status of EPA Air Pollution Control Cost Manual Update
Larry Sorrels, U.S. EPA, Air Economics Group
The National Air Toxics Assessment (NATA)
Darcie Smith and Mark Morris, U.S. EPA, Air Toxics Assessment Group
Madeleine Strum, U.S. EPA, Air Quality Assessment Division
SEPTEMBER 23, 2016
ECHO Clean Air Targeting Tool (eCATT)
Supplementary Presentation: Enforcement and Compliance History Online (ECHO) – John Dombrowski, U.S. EPA, Office of Enforcement and Compliance Assurance, Enforcement Targeting and Data Division
U.S. EPA Office of Air and Radiation Updates
Janet McCabe, Acting Assistant Administrator, Office of Air and Radiation, U.S. EPA
Ambient Air Monitoring Issues
Lewis Weinstock, U.S. EPA, Ambient Air Monitoring Group
SO2 NAAQS Implementation Roundtable Discussion
AAPCA Member Roundtable with Arkansas Department of Environmental Quality and Wyoming Department of Environmental Quality
2016 Spring Meeting (Columbia, SC)
April 28, 2016
Multi-Pollutant Risk-Analysis & Reduction Strategy for South Carolina
Carol Kemker, U.S. EPA, Region 4
Andrew Hollis, South Carolina Department of Health and Environmental Control
Kimber Scavo, U.S. EPA, Health and Environmental Impacts Division
Dean Hybl, Ten at the Top
NOX Controls Updates Presentations
Clean Power Plan: Legal Issues
Nathan Richardson, University of South Carolina School of Law
Keynote Address – Representative Harold Mitchell, Jr., South Carolina House of Representatives
Demystifying Regulatory Impact Analyses – Linda Chappell, U.S. EPA, Health and Environmental Impacts Division
Regulatory Impact Analyses: A State Perspective – Sabine Lange and Lindsey Jones, Texas Commission on Environmental Quality, Toxicology Division
State Participation on EPA Scientific Advisory Panels: Survey Results – Cassie Yannelli, AAPCA
Clean Air Act Legal Update – Beth Partlow, Law Offices of Elizabeth B. Partlow, LLC
NAAQS and Regional Haze Implementation Updates – Megan Brachtl, U.S. EPA, State and Local Programs Group, Air Quality Policy Division and Rhea Jones, U.S. EPA, Geographic Strategies Group, Air Quality Policy Division
Startup, Shutdown & Malfunction SIP Call Discussion
April 29, 2016
Megan Brachtl, U.S. EPA, State and Local Programs Group, Air Quality Policy Division
Rhea Jones, U.S. EPA, Geographic Strategies Group, Air Quality Policy Division
Clean Air Act Implementation and Resources Discussion
Janet McCabe, U.S. EPA, Office of Air and Radiation
2015 Annual Meeting (Raleigh, NC)
September 16, 2015
Trading-Ready Options and the Final Clean Power Plan
Jonas Monast and Sarah Adair, Nicholas Institute, Duke University
September 17, 2015
AAPCA 2015 Best Practices Presentations:
 U.S. EPA's Clean Air Act Priorities
An Assessment of the American Meteorological Society/U.S. EPA Regulatory Model's (AERMOD) Accuracy: A Case Study
Keith Baugues, Indiana Department of Environmental Management
Keynote Address – Donald van der Vaart, North Carolina Department of Environment and Natural Resources
111(d) Final Rule Updates & Implementation
The Role of Science and Scientific Advice in Review of the Ozone NAAQS
H. Christopher Frey, North Carolina State University
NAAQS and Other Implementation Updates
Megan Brachtl, Rhea Jones, and Vera Kornylak, U.S. EPA
Lewis Weinstock, U.S. EPA
September 18, 2015
 Personal Air Monitoring and Messaging
Kristen Benedict, U.S. EPA
Climate, Air Quality and Permitting Proposals For the Oil and Natural Gas Industry
Joseph Stanko, Hunton and Williams LLP
2014 Annual Meeting (Austin, TX)
September 10, 2014
September 11, 2014
 Perspectives on EPA's 111(d) Proposal
Near Road Emissions
 Keynote
Other EPA Updates
September 12, 2014
GHG Permitting in the Aftermath of UARG v. EPA – Matt Paulson, Katten Muchin Rosenman LLP
GHG Permitting – Jeff Robinson, U.S. Environmental Protection Agency, Region 6
Air Permitting in Texas and Greenhouse Gases – Mike WIlson, Texas Commission on Environmental Quality
Next Generation Air Monitoring  – Chris Owen, Texas Commission on Environmental Quality
2010 Flare Study and Supplemental Flare Operations Training  – Russ Nettles, Texas Commission on Environmental Quality
Legal Review of Ongoing Clean Air Act Cases – Terry Salem, Texas Commission on Environmental Quality
2013 Annual Meeting (Columbus, OH)
NOVEMBER 20, 2013
Welcome/Opening Remarks – Scott Nally, Director, Ohio Environmental Protection Agency
Air Quality Trends in Ohio – Bob Hodanbosi, Chief, Division of Air Pollution Control, Ohio Environmental Protection Agency
NAAQS/Regional Haze Update – Scott Mathias, Associate Director, Air Quality Policy Division, U.S. EPA Office of Air Quality Planning & Standards
Section 111(d) Presentation and Discussion – Tim Profeta, Director of Nicholas Institute for Environmental Policy Solutions, Duke University
Keynote Lunch – Administrator Janet McCabe and Joe Goffman, Senior Counsel, U.S. EPA Office of Air & Radiation
Modeling & Emissions Inventory Update Session – Chet Wayland, Director, Air Quality Analysis Division, U.S. EPA Office of Air Quality Planning & Standards
Monitoring Update Session – Chet Wayland, Director, Air Quality Analysis Division, U.S. EPA Office of Air Quality Planning & Standards
November 21, 2013
Welcome/Opening Remarks – AAPCA Officer
Oil and Natural Gas Session

Federal Air Perspective – Kevin Culligan, Acting Director, Sector Policies and Programs Division, U.S. EPA Office of Air Quality Planning & Standards
State Perspective – Steve Hagle, Deputy Director, Office of Air, Texas Commission on Environmental Quality and Terry O'Clair, Director Division of Air Quality, North Dakota Department of Health
Methane Study – Andrew Williams, State Regulatory and Legislative Affairs Manager, Environmental Defense Fund
Legal Review of Recent/Ongoing Clean Air Act Cases – Drew Bergman, Supervising Attorney, Ohio Environmental Protection Agency