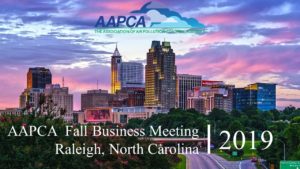 FOR IMMEDIATE RELEASE
Association of Air Pollution Control Agencies' 2019 Fall Business Meeting Held in Raleigh, North Carolina
State and Local Air Agencies Elect 2019-2020 Officers, Award 2019 Best Practices in Air Pollution Control, Discuss Priorities with U.S. EPA
August 29, 2019
Lexington, KY
From August 26 to 28, the Association of Air Pollution Control Agencies (AAPCA) held its 2019 Fall Business Meeting in Raleigh, North Carolina. The Association's largest attended meeting, AAPCA welcomed more than 160 attendees from nearly 30 state and local environmental agencies. Participants also included senior officials from the U.S. Environmental Protection Agency's (EPA) Offices of Air and Radiation, Administrator, Enforcement and Compliance Assurance, Research and Development, Inspector General, and several regional offices.
AAPCA's 2019-2020 Officers were elected by AAPCA's Board of Directors, which includes senior air officials from 22 state environmental agencies, during the meeting. The Association is pleased to announce the following 2019-2020 Officers:
"With members responsible for air quality for nearly 50 percent of the country's population, this organization constitutes a primary forum for discussing and prioritizing air quality issues across the United States," stated incoming President Marc Cone. "I am excited to work with AAPCA's engaged membership as the Association continues to grow and provide key resources for air quality agencies."
During the 2019 Fall Business Meeting, the Association also awarded 2019 Best Practices for ground breaking technology, innovative practices, or exemplary operations in the field of air pollution control. Nominations are reviewed by AAPCA's Best Practices Committee and Board of Directors, with three programs recognized for their leadership:
Nancy Vehr, AAPCA's 2020 Past President noted that, "State and local agencies have been at the forefront of decades of air quality progress, and are well-positioned to engage the public in order to make complex, localized decisions. Being able to hear about these innovative programs is truly valuable for air quality leaders."
AAPCA was honored to have Jonathan Brightbill, Principal Deputy Assistant Attorney General for the U.S. Department of Justice's Environment and Natural Resources Division, as the keynote speaker on August 27. The Association was also pleased to welcome Anne Idsal, Acting Assistant Administrator for U.S. EPA's Office of Air and Radiation, to discuss the Agency's current priorities.
The 2019 Fall Business Meeting kicked off with a topical session entitled New Tools for Air Quality Evaluation. Other topics on the agenda included the Affordable Clean Energy Rule, air quality research and health science updates, permitting, mobile sources, regional haze, energy developments and transitions, and technical presentations related to modeling and monitoring.
"AAPCA's membership appreciates the opportunity to engage national leadership and communicate air quality priorities, which is vital to all of our communities," said AAPCA Secretary/Treasurer Rhonda Thompson of the South Carolina Department of Health and Environmental Control.
AAPCA 2020 Vice President Karen Hays of the Georgia Environmental Protection Division, noted: "AAPCA's meetings continue to provide a leading forum for leaders in air pollution control at the federal, state, and local levels. The information shared and learned at these meetings can provide valuable insight into the work we do daily of protecting public health."
All presentations from the 2019 Fall Business Meeting can be found here. AAPCA's 2020 Spring Meeting will be held in Salt Lake City, Utah, on April 22, 23, and 24.
AAPCA Background
The Association of Air Pollution Control Agencies (AAPCA) is a consensus-driven organization focused on assisting state and local air quality agencies and personnel with implementation and technical issues associated with the federal Clean Air Act. AAPCA's members work collaboratively on behalf of states and the communities they protect to act as a conduit for and provide feedback to federal regulators on air quality rules that have significant impacts across the entire nation. AAPCA represents nearly 50 state and local air agencies, and senior officials from 22 state environmental agencies currently sit on AAPCA's Board of Directors. AAPCA is housed in Lexington, Kentucky as an affiliated association of The Council of State Governments (CSG).
Association of Air Pollution Control Agencies | 1776 Avenue of the States | Lexington, Kentucky 40511
www.cleanairact.org | @AAPCA_States
# # #