FOR IMMEDIATE RELEASE
2021 Edition of The StATS Report Released by AAPCA
Annual report highlights core role of state and local agencies in air quality improvement
May 10, 2021
Lexington, KY
This morning, the 2021 edition of State Air Trends & Successes: The StATS Report was released by the Association of Air Pollution Control Agencies (AAPCA). In the fifth year of publication, The StATS Report spotlights state and local air agencies as central to the significant progress that has been achieved in improving air quality in the United States. The report includes sections detailing AAPCA Member State successes, the international context of U.S. air quality progress, and the national trends and metrics for several programs under the federal Clean Air Act.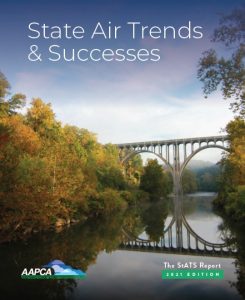 Commenting on the release of the report, AAPCA President Bob Hodanbosi, Chief for the Ohio Division of Air Pollution Control, stated: "Like the rest of the country, air quality agencies had significant challenges and changes to overcome during the past year. While the pandemic may have modified our operations, we continued to meet the mission of protecting air quality, and The StATS Report highlights the long-term results of our work."
AAPCA's 2021 publication of State Air Trends & Successes: The StATS Report follows last week's 15th annual Air Quality Awareness Week (May 3rd – 7th), which is led by the U.S. Environmental Protection Agency (EPA) and other federal partners. To catalogue air quality trends at the local, state, and federal levels, The StATS Report uses publicly available data to provide information on the national ambient air quality standards, or NAAQS, program as well as toxic air releases, visibility progress, compliance and enforcement activities, and greenhouse gas emissions.
"The StATS Report demonstrates the successful efforts of local, state, and federal collaboration under the Clean Air Act's framework of cooperative federalism," stated AAPCA Vice President Bryce Bird, Director for the Utah Division of Air Quality. "AAPCA's members look forward to continuing to engage U.S. EPA as a partner in improving air quality and understanding emerging issues."
Some select trends in this year's State Air Trends & Successes: The StATS Report include:
From 1970 through 2019, the U.S. reduced by 77 percent the combined emissions of the six criteria air pollutants under the NAAQS program.
From 1980 to 2019, at least a 35 percent decline in the ambient levels of ground-level ozone, sulfur dioxide, nitrogen dioxide, carbon monoxide, and lead.
Nationally, reported toxic air releases declined 325 million pounds (35 percent) from 2009 to 2019, with AAPCA Member States overseeing nearly 60 percent of the total reduction.
In the electricity sector from 1990 to 2019, emissions of sulfur dioxide were down 14.7 million tons (94 percent) and nitrogen oxide emissions were down 5.5 million tons (86 percent). AAPCA Member States were responsible for almost 70 percent of sulfur dioxide emissions reductions and 64 percent of nitrogen oxide emissions reductions.
Nationally, energy-related carbon dioxide emissions were reduced nearly 10 percent from 1998 through 2018, a period in which total energy production grew 34 percent.
In 2020, AAPCA Member States were the lead agency for a total of 37,088 compliance monitoring activities, or more than 53 percent of the state lead agency total.
The full 2021 edition of AAPCA's State Air Trends & Successes: The StATS Report is available here.
AAPCA Background
The Association of Air Pollution Control Agencies (AAPCA) is a consensus-driven organization focused on assisting state and local air quality agencies and personnel with implementation and technical issues associated with the federal Clean Air Act. AAPCA members work collaboratively on behalf of states and the communities they protect to act as a conduit for and provide feedback to federal regulators on air quality rules that have significant impacts across the entire nation. AAPCA represents nearly 50 state and local air agencies, and senior officials from 22 state environmental agencies currently sit on AAPCA's Board of Directors. AAPCA is housed in Lexington, Kentucky as an affiliated association of The Council of State Governments (CSG).
Association of Air Pollution Control Agencies | 1776 Avenue of the States | Lexington, Kentucky 40511
www.cleanairact.org | @AAPCA_States
Contact: Jason Sloan, Executive Director (jsloan@csg.org / 859-244-8043)