FOR IMMEDIATE RELEASE
AAPCA Releases 2019 Edition of State Air Trends & Successes: The StATS Report
Annual report highlights progress in air quality, key metrics from state and local air quality agencies
Lexington, KY
April 22, 2019
Today, the Association of Air Pollution Control Agencies (AAPCA) released the 2019 edition of its annual report, State Air Trends & Successes: The StATS Report. AAPCA's report, published under a new title, details the significant progress in air quality that has been achieved in the United States and spotlights the critical role of state and local air agencies in that improvement.
The 2019 edition of The StATS Report, published on Earth Day and ahead of Air Quality Awareness Week 2019 (April 29 to May 3), uses publicly available data from the U.S. Environmental Protection Agency and other agencies to present key air quality statistics. Previously referred to as The Greatest Story Seldom Told, the positive trends reflected in the report range from ambient pollution concentrations (like particulate matter and ground-level ozone) to air releases of toxic chemicals to compliance and enforcement data. Where applicable to provide context, this report also tracks the trend lines of economic and social growth indicators.
Remarking on the release of The StATS Report, AAPCA President Nancy Vehr, Air Quality Administrator for the Wyoming Department of Environmental Quality stated, "State and local air quality agencies are responsible for making complex planning decisions affecting air quality in their communities. In detailing air quality progress and the role of air agencies, The StATS Report highlights the importance of understanding unique social and economic factors in developing sensible, localized strategies that best address air pollution issues while accommodating economic and population growth."
AAPCA Past President Stuart Spencer of the Arkansas Department of Environmental Quality added, "AAPCA's 22 state members are responsible for air quality for nearly 45 percent of the U.S. population and, as this year's report shows, have demonstrated leadership in improving the air in their jurisdictions. AAPCA members look forward to working with federal partners to continue to protect air quality."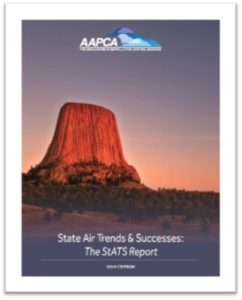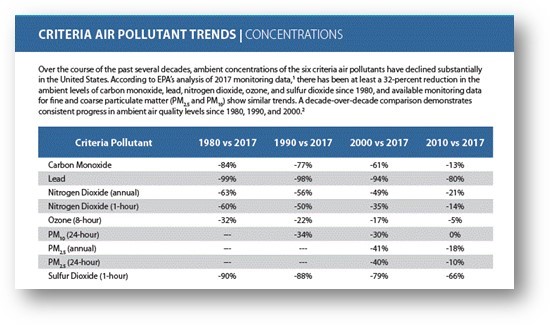 Included below are some key national statistics from AAPCA's 2019 State Air Trends & Successes: The StATS Report:
From 1970 to 2017, a 73-percent reduction in the combined emissions of the six criteria air pollutants for which there are national ambient air quality standards.
From 1990 to 2016, electricity sector emissions of nitrogen oxide were reduced more than 80 percent and electricity sector sulfur dioxide emissions were reduced 91 percent
Reported air release of toxic chemicals were down 57 percent in 2017 as compared to 2007, from 1,336,060,145 pounds in 2007 to 579,381,790 in 2017.
Comparing 2000 to 2016, energy-related carbon dioxide emissions fell nearly 12 percent while total energy production increased 18 percent.
Some key metrics from AAPCA Member States:
Since 1990, AAPCA Member States have reduced by 54 percent the aggregate emissions of the six criteria air pollutants, while experiencing a 263-percent increase in Gross Domestic Product, a 58-percent increase in vehicle miles traveled, and a 44-percent increase in population.
In the electricity sector, AAPCA Member States accounted for more than 60 percent of nitrogen oxide emissions reduction in the United States from 1990 to 2016 (3.2 million tons of the 5.2-million-ton reduction).
From 2007 to 2017, AAPCA Member States were responsible for nearly two-thirds of the 750-million-pound reduction in reported toxic air releases.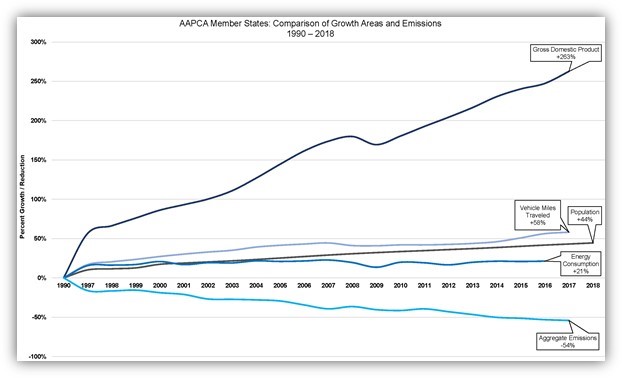 AAPCA Background
The Association of Air Pollution Control Agencies (AAPCA) is a consensus-driven organization focused on assisting state and local air quality agencies and personnel with implementation and technical issues associated with the federal Clean Air Act. AAPCA members work collaboratively on behalf of states and the communities they protect to act as a conduit for and provide feedback to federal regulators on air quality rules that have significant impacts across the entire nation. AAPCA represents more than 40 state and local air agencies, and senior officials from 22 state environmental agencies currently sit on AAPCA's Board of Directors. AAPCA is housed in Lexington, Kentucky as an affiliated association of The Council of State Governments (CSG).
Association of Air Pollution Control Agencies | 1776 Avenue of the States | Lexington, Kentucky 40511
www.cleanairact.org | @AAPCA_States
# # #